Cause
IT Gives Back - Cause Matters
An integral part of NKPR and the IT Lounge, charitable giving is at the heart of this festival destination! At the centre of our 10th anniversary year, all participating IT Lounge partners will help raise funds for NKPR's cause-driven candy shop, Kandy with a K, benefitting 10 charities for each of the 10 days of film festival! This year we've set our sights on a goal of raising $10,000 for the Kandy with a K causes!
Follow for a Cause
NKPR's third annual Follow for a Cause campaign will continue to utilize social media to raise awareness and funds for IT Lounge charitable partner, Kandy with a K, through an innovative, celebrity-supported social media push. Funds will be donated from NKPR for each new Twitter follower and Facebook fan received during the campaign. Each of the 10 days of film festival will highlight one of the 10 Kandy with a K charities. You can follow NKPR on Twitter at @natashankpr and on Facebook at www.facebook.com/NKPRO to make your contribution to the campaign. Already following NKPR? This year, we will also donate funds for every person who Retweets and Shares the Follow for a Cause campaign!
Kandy with a K  Causes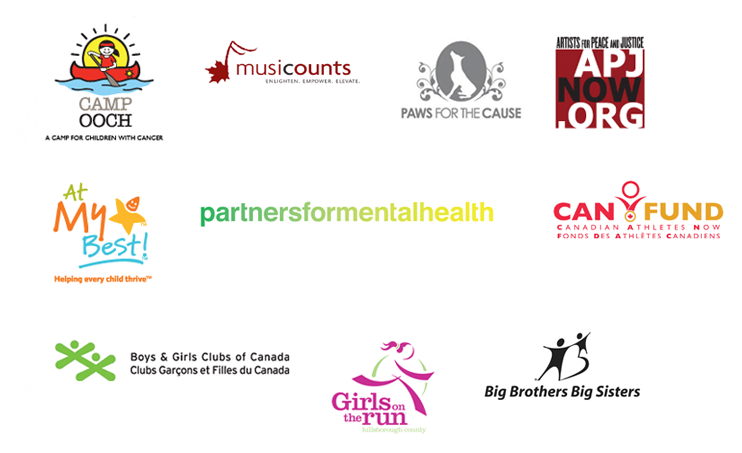 Artists for Peace and Justice, established in early 2009, is a fundraising effort founded by Paul Haggis and friends that encourages peace and social justice and addresses issues of poverty and enfranchisement in communities around the world. The organization's immediate goal is to build schools to serve the poorest areas of Haiti, providing an education, hot meals, clean drinking water and regular medical treatments to the children living in the slums.
Paws for the Cause is a Toronto-based organization that raises money for a different animal welfare organization every year. They also raise money to support an annual Paws for the Cause scholarship – The Chloe Award – given to a veterinary student at the University of Guelph.
MusiCounts, Canada's music education charity associated with CARAS, is helping to keep music alive in schools across Canada. MusiCounts' mission is to ensure that children in Canada, regardless of socio-economic circumstances and cultural background, have access to a music program through their school. MusiCounts includes Band Aid musical instrument grants, the MusiCounts Teacher of the Year Award, Scholarships, and other music education initiatives.
Camp Oochigeas is a privately funded, volunteer based organization that provides kids with cancer and kids affected by childhood cancer with a unique opportunity for growth through challenging, fun, enriching and magical experiences.
At My Best is a free comprehensive curriculum-supported toolkit for children in grades kindergarten to grade three to promote and develop children's overall wellness. At My Best combines physical activity, healthy eating and emotional well-being and aims to support children's optimal physical and emotional development by inspiring and motivating them to make healthier choices today, and develop lifelong healthy habits.
Partners for Mental Health is a national, non-profit organization dedicated to improving the way we think about, act towards and treat mental health.
CAN Fund is a not for profit organization devoted solely to raising funds and awareness of our Canadian athletes. CAN Fund is the only organization in Canada that with each donation, you find out the name of the athlete you have directly supported and receive a tax receipt. Donations go directly to Canadian athletes so they can afford proper nutrition, better equipment, coaching, travel to competitions and training camps, and basic living expenses.
Big Brothers Big Sisters is Canada's leading child and youth mentoring charity. Big Brothers Big Sisters facilitates life-changing relationships that inspire and empower children and youth to reach their potential, both as individuals and citizens. For almost 100 years, Big Brothers Big Sisters of Toronto has been well known and respected for the important services it provides to children and youth in our community.
Boys and Girls Clubs of Toronto's mission is to provide a safe, supportive place where children and youth can experience new opportunities, overcome barriers, build positive relationships and develop confidence and skills for life.
Girls on the Run is committed to helping young women fulfill their potential by empowering a generation of self-aware girls who are tomorrow's role models for a healthy, balanced lifestyle.